Following the tragic news of Bruce Willis' frontotemporal dementia diagnosis, celebrities have shared their sadness and hope for him and his family.
News came today that the Die Hard actor's previous aphasia diagnosis had sadly progressed into dementia thanks to a heartbreaking post by the women in his family, Emma Heming Willis, his wife, his ex-wife Demi Moore, and his daughters Rumer, Scout, Tallulah, Evelyn and Mabel.
Now, celebrities, including Maria Shriver, have shared their sorrow at the news.
READ MORE: Bruce Willis' family reveals actor diagnosed with dementia
READ MORE: Surprise replacement announced amid TV host's shock exit
"My heart goes out to Bruce Willis and his family, & also my gratitude for shining a much needed light on this disease," Shriver shared on Twitter.
"When people step forward it helps all of us. When people get a diagnosis it's extremely difficult, but also for most, a relief to get a diagnosis."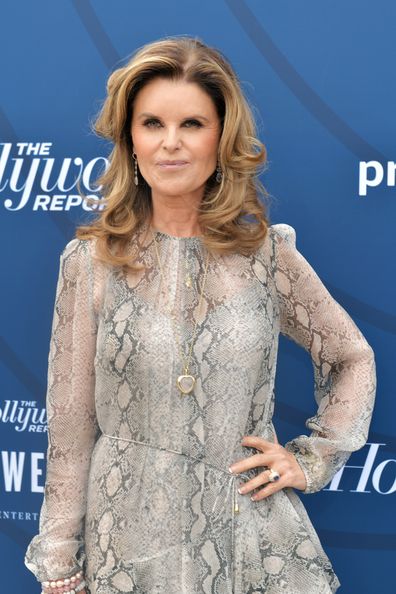 For a daily dose of 9Honey, subscribe to our newsletter here
Republican politician Monica De La Cruz also shared a message for Willis, tweeting, "My heart goes out to Bruce Willis and his family. Dementia is a cruel disease. We will always remember him as a great actor who has done a lot of good work helping combat veterans and sick children."
She continued, "Join me in me praying for him and all Americans who suffer from this illness."
READ MORE: Police called over Kanye's fight with photographer
Supernatural actor Jim Beaver also shared a message.
"The news of Bruce Willis's diagnosis of dementia is sad," he tweeted. "I got my first real break as an actor playing his buddy Earl in IN COUNTRY, Norman Jewison's moving drama about Vietnam veterans, and it was a transformative experience for me."
Rocky actor Carl Weathers also tweeted for Willis.
"Yours truly sends love and positivity to Bruce and his family. His talent has been enjoyed 'round the world'! DIE HARD; SIXTH SENSE; PULP FICTION! Love his work. #BePeace," he wrote.
Meantime plenty of friends have shared messages underneath the family's initial post.
Michelle Pfeiffer wrote to friend Demi Moore, "Thank you. Sending love," while Rita Wilson added, "Thank you for sharing this with us. Sending Bruce and all the families love."
Helena Christensen added, "Sending you so much love, it is so wonderful you're such a tight knit family, it makes all the difference ♥️."
To Rumer Willis, Breaking Bad actor Aaron Paul wrote, "Love you so much my friend!❤️ Sending hugs to you and that beautiful family of yours. Your pops is such a damn legend."
Charmed actress Alyssa Milano added, "Sending you love."