Tributes have poured in for Law & Order: SVU star Richard Belzer, who died at the age of 78.
The beloved comedian and actor is being remembered by his friends and colleagues after he reportedly died at home in Southern France following health complications.
Now Law & Order: SVU's main stars, Mariska Hargitay and Chris Meloni have led tributes to Belzer, who is being remembered as "a dear friend" and "brother".
READ MORE: Rebel Wilson engaged three months after welcoming first baby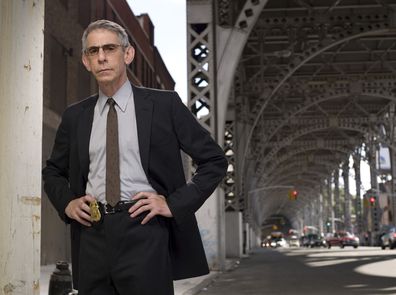 READ MORE: Saving Private Ryan star in critical condition after brain aneurysm
Paying tribute to Belzer, Meloni, who played Sergeant Elliot Stable on the show, shared an old photo of him with the actor, along with a sweet goodbye.
"Richard "The Belz" Belzer. A beautiful soul, a dapper dresser, with the spirit of a child. Never met anyone like him, and I never will again. Ur last words have helped make ur passing easier to take," he wrote.
Per The Hollywood Reporter, Belzer kept to his blunt comedy style even in his last breaths, with his last words being "F–k you, motherf––r," according to close friend and comedy writer Bill Scheft.
For a daily dose of 9Honey, subscribe to our newsletter here
Sharing a text post to Instagram, Mariska Hargitay, who plays Captain Olivia Benson on the long-running series, shared some sweet words for her late friend.
"Goodbye my dear, dear friend," she wrote. "I will miss you, your unique light, and your singular take on this strange world."
The message continued, "I feel blessed to have known you and adored you and worked with you, side by side, for so many years. How lucky the angels are to have you. I can hear them laughing already. I love you so very much, now and forever."
READ MORE: How to secure your very own PlayStation VR2
Rapper Ice-T, who plays Fin Tutuola on Law & Order: SVU also shared a tribute.
"Highs and Lows… After one of the most amazing weeks of my life. I wake up to the news I lost my friend today," the rapper revealed. "Belz is gone.. Damn it! But remember this..'When you ARE having real fun and are Truly Happy. ENJOY it to the fullest! Cause Pain is inevitably coming.' I'll miss you Homie."
The rapper had received his star on the Hollywood Walk of Fame only a few days earlier.
Meantime Dean Winters, who played Brian Cassidy, the partner to Belzer's John Munch on the show, revealed his sorrow at the news.
"Richard Belzer was my brother," he wrote. "We became fast friends in '92 when I was a bartender, faster friends when I did my first job on NBC's HOMICIDE: LIFE ON THE STREET and in 1998 he called me and said 'baby, Dick Wolf is doing a new show called LAW and ORDER SVU and he wants me to be on it. I told Dick 'Only if you make Dean Winters my partner, Brian Cassidy' Baby, are you in?' I was in."
READ MORE: Law & Order star Richard Belzer dead at 78
He ended, "There aren't a lot of people with class like that left. 'Classe non e acqua'. Everyone can have water, not everyone can have class. Richard Belzer had class for days. I will miss this man very much."
In a statement, Law & Order creator Dick Wolf celebrated Belzer as an actor who "brought humor and joy into all our lives."
"Richard Belzer's Detective John Munch is one of television's iconic characters," the statement reads. "I first worked with Richard on the 'Law & Order'/'Homicide' crossover and loved the character so much, I told Tom (Fontana) that I wanted to make him one of the original characters on 'SVU.' The rest is history."