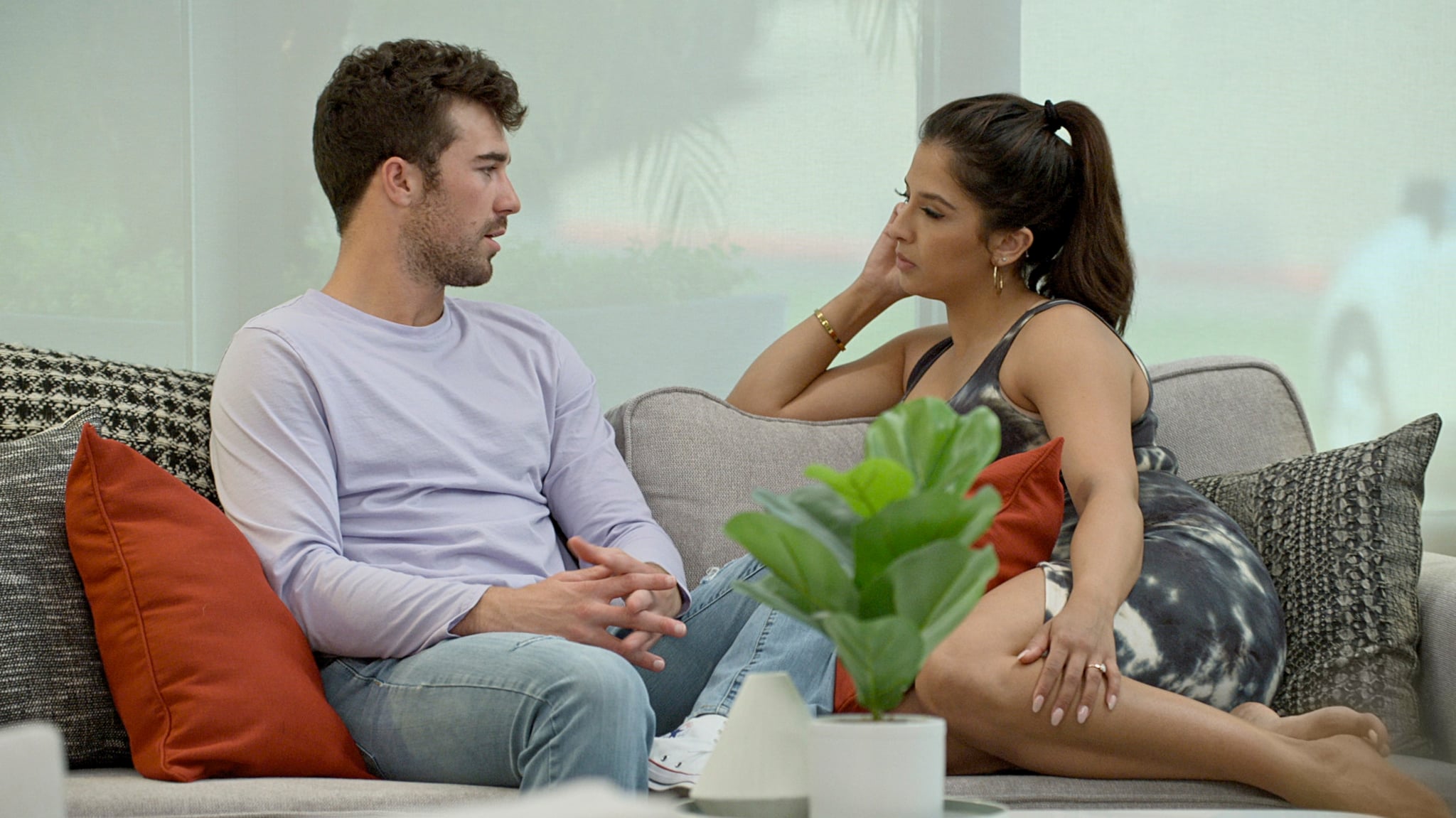 Season three of "Love Is Blind" ended with its highly anticipated weddings episode (released Nov. 9), which finally reveals which couples said "I do" — and "I don't." For as many happy moments viewers saw with Alexa Alfia and Brennon Lemieux and Colleen Reed and Matt Bolton tying the knot, there were just as many heated ones fans didn't expect — mainly between Zanab Jaffrey and Cole Barnett. The former's intense speech at the altar ended with her walking out on her partner and shutting down any possibility of the two continuing their relationship. It's one of many moments that Barnett tells POPSUGAR were "extremely hard" for him to watch.
"I'm not going to sit here and try to right all of my wrongs, but I certainly don't agree with the things even I said."
"I really don't want to watch [the show] a second time just because of some of the things I saw, and that's absolutely not how I think or feel about that issue," he explains. "Calling my fiancée and asking if she was bipolar was taken out of context. I think there was a lot more surrounding that conversation and situation. Same thing with the whole pool scene and being asked about tv-14 people. I'm not going to sit here and try to right all of my wrongs, but I certainly don't agree with the things even I said."
Barnett and Jaffrey's rocky relationship took shape through the latter half of "Love Is Blind" season three after they got engaged and finally left the pods. It didn't take long for red flags to pop up during their weeks-long engagement, as Barnett and his no-filter personality made for a few cringe-worthy moments referencing his attraction to his then-fiancée. In one scene, Barnett pointed out that his costars Reed and Raven Ross are more attractive to him than Jaffrey. In another, he jokingly asked Bolton if he'd be open to doing a "fiancée swap" with Reed and Jaffrey.
Looking back at those scenes, Barnett admits they aren't his proudest moments and expresses remorse for how they affected Jaffrey, which ultimately led to their explosive breakup. "I'm not going to sit here and try to defend myself," he says. "I don't regret doing [the show] at all. We gave it a run for love — that's what you do in relationships that aren't televised."
"For me, it was a chance at another potential wife, spouse, partner, and a good life together," Barnett — who was once married before the show — adds of joining "Love Is Blind." "I don't regret it, but I regret hurting her. I regret the aftermath of our relationship and how bad it was. But I don't regret doing it because I didn't intend, at any time, to hurt her. I think it came with the territory of the experiment and us not being compatible completely."
Though Barnett didn't end up with a wife at the end of the series, he shares that he's still appreciative of what the social experiment taught him about himself. "If there's one thing amazing about watching [yourself] on TV, it's that you see all of your worst sides," Barnett remarks. "It really shows you your blind spots, and I think I can improve based on this experience. There's a lot that you don't see of me on the show. I know it was hard for me to watch — it's hard for anyone to watch themselves on TV, especially in a relationship that doesn't end up working out. So I guess I would take back the times where my foot was in my mouth, obviously."
"Love Is Blind" season three is now streaming on Netflix.