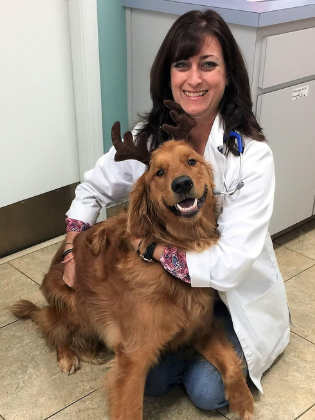 This week, American Humane announced the winners of the 9th annual American Humane Hero Veterinarian and Hero Veterinary Nurse Awards™, presented by Zoetis. Selected from a pool of more than 500 nominees and a combination of votes from the public and a blue-ribbon judging panel of veterinary professionals and animal care experts, Dr. Raquel Fagan is the 2022 American Hero Veterinarian!
The world's animals depend on veterinarians and veterinary nurses, and we are honored to recognize their achievements in saving lives, conducting groundbreaking research, and working on the front lines for the animals in their communities. Dr. Fagan is the well-deserving recipient of this year's American Hero Veterinarian title.
Since becoming the owner of Shamrock Animal Hospital in 2016, Dr. Fagan and her team have pursued a simple mission: Do Great Work, Have Fun and Give Back. Dr. Fagan serves the animal health needs of families throughout central Florida based on the simple idea that every patient is unique and deserves the individual care and attention that her education and experience have blessed her with.
Since 2019, Dr. Fagan has also served as the medical director for Patriot Service Dogs, a nonprofit organization that trains service dogs for veterans. By donating her time and resources, along with generous donations of products and services from veterinary industry partners, Dr. Fagan provides all vaccinations, heartworm prevention and spay/neuter services at no cost to PSD.
PSD completes a significant portion of training in the largest women's prison in Florida. The WOOF program allows incarcerated women to work with and train the dogs. On multiple occasions throughout the year, Dr. Fagan visits the prison to provide wellness exams and vaccinations for dogs that are in training. She also educates the inmate-trainers on a broad range of canine health topics and shares opportunities that they may have in the animal health field following their release.
Dr. Fagan knew she wanted to be a veterinarian when she was just six years old, and she has dedicated her whole life to caring for animals. She demonstrates heroism every day, through her compassion, caring and knowledge.
Dr. Fagan, thank you for all you do for your community and beyond.