For Immediate Release:
September 15, 2023
Contact:
Tasgola Bruner 202-483-7382
Portland, Ore. – PETA supporters wearing pig masks will attend Oregon Health & Science University's (OHSU) board of directors meeting on Monday, urging the school to end its invasive medical training procedures on live animals in its obstetrics and gynecology (OB/GYN) physician residency training program.
When:    Monday, September 18, 12:30 p.m.
Where:    Robertson Life Sciences Building, Room 3A00 (third floor), 2730 S. Moody Ave., Portland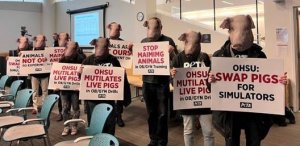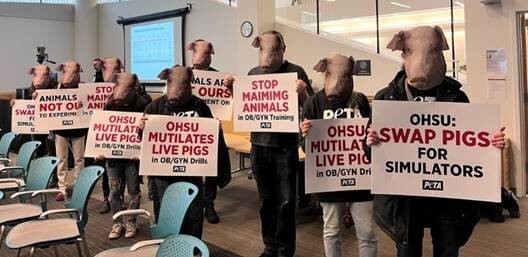 PETA supporters urge the OHSU Board of Directors to end pig mutilations. Photo credit: PETA
"OHSU has the shameful distinction of being one of the last remaining institutions to use female pigs as stand-ins for humans, slicing them open and killing them," says PETA Vice President Shalin Gala. "PETA is calling on OHSU to do better by pigs and its students' future patients by switching to superior, non-animal technology."
In April and June, PETA supporters protested during OHSU's Board of Directors meetings and at the university's June convocation, urging an end to the pig-mutilation drills. PETA also sent a letter to Amy Stenson, director of the university's OB/GYN residency program, and wrote to Aaron Caughey, the school's OB/GYN department chair, noting that the majority of similar programs in the U.S. use animal-free training methods, such as realistic human-patient simulators, advanced virtual reality systems, and interactive computer models.
At least 64 OHSU OB/GYN residents have cut into as many as 48 live female pigs, dissected their organs, and performed other invasive surgeries on them in attempts to learn human medicine. All the pigs were later killed.
PETA—whose motto reads, in part, that "animals are not ours to eat"—opposes speciesism, a human-supremacist worldview, and offers a free vegan starter kit for anyone looking to make the switch. For more information, please visit PETA.org, listen to The PETA Podcast, or follow the group on X (formerly Twitter), Facebook, or Instagram.