As PETA previously exposed, the Miami Seaquarium has a history of animal deaths and troubling animal welfare issues that reaches beyond its poor treatment of the lone orca Lolita, who has been confined to a small, shallow, barren concrete tank for the past five decades. Records from the U.S. Department of Agriculture (USDA) and other government agencies along with testimony from animal-care experts reveal that—despite the objections of the veterinarians then on site—numerous animals at the Miami Seaquarium were fed low-quality or rotting fish, others are apparently underweight or emaciated following cuts to their food supply, and a manatee died after being starved, among other welfare problems.
Such failures to provide the bare minimum care pose a risk to the health and well-being of all the animals at the facility. Former Miami Seaquarium veterinarian Dr. Jenna Wallace—who was present at the time of a damning June 2021 inspection and has since been cooperating with the USDA in its subsequent months-long investigation—knows firsthand that Lolita and other animals were being underfed despite veterinary concerns:
During the time I was briefly employed as a veterinarian at Miami Seaquarium in 2021, there were multiple animals, including … Lolita, with significant diet cuts that were very concerning. Their hydration status, health, and even their overall attitudes were affected. This was demonstrated not only by abnormal blood work but also the multiple videos I provided during the USDA investigation of [Lolita] aggressively chasing the Pacific white-sided dolphins, one of whom died during the federal investigation.

— Dr. Jenna Wallace, former veterinarian at the Miami Seaquarium
Just days after she cooperated with the USDA following the June 2021 inspection, Wallace was offered one month's salary to sign a nondisclosure agreement and leave the facility grounds immediately. She declined the payment in exchange for her silence and has yet to set foot in the park again. Since July 2021, Dr. Shelby Loos has been the facility's attending veterinarian. During this time, an emaciated manatee died, multiple harbor seals died, a Pacific white-sided dolphin named Catalina died of suspected trauma sustained at the park, and Lolita became critically ill.
Now, after reviewing photos uploaded to social media showing dolphins used in guest interactions at the Miami Seaquarium, Wallace notes the animals' apparent emaciation:
The scapula (shoulder), ribs, and caudal transverse processes in some of these animals are prominent even from a distance. This indicates suspected emaciation or poor body condition in general.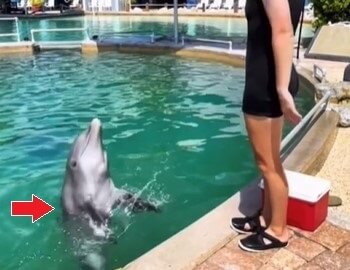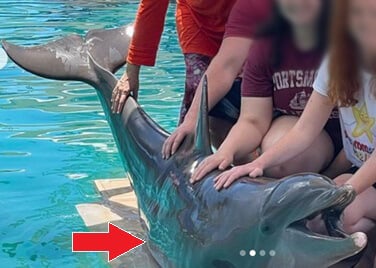 Following the death of Snuggles, an emaciated manatee whose necropsy revealed an empty GI tract, the U.S. Fish & Wildlife Service (FWS) suspended the Miami Seaquarium from receiving any rescued manatees and demoted it from a critical care facility for rescued animals to a holding facility because its conduct "was not consistent with the standard of care for a critical care facility." At FWS' request, the Miami Seaquarium transferred two of the remaining 12 manatees to other facilities more capable of caring for them.
Help Animals at the Miami Seaquarium
Please join PETA in asking the Miami-Dade County state attorney to investigate the Miami Seaquarium for cruelty to animals.