IMMEDIATE RELEASE
Stouffville, ON (November 1, 2022) – As we usher in the seasons of mud, slush and snow, which can mean paw prints in every corner, the Ontario SPCA and Humane Society is beaming – and gleaming! – to announce Swiffer as its Official Clean Up Crew. 
For a second year, Swiffer is teaming up with the Ontario SPCA to not only help animals in need, but also help equip pet parents with the tools needed to help prepare adopters – and their home – for a new furry friend.  
Starting Nov. 4 until June. 30, every adopter who brings home an animal from the Ontario SPCA will receive every pet parent`s must-have product, the Swiffer Heavy Duty Pet Duster Starter Kit and the Swiffer Get Pet Ready Guide. The Swiffer Heavy Duty Pet line helps keep your home fur-free, spill-free and muddy paws-free, making cleaning up messes a breeze and giving pawrents more time to play with their new best friend!  
"We, at Swiffer, are so excited and so proud to become the Official Clean Up Crew of the Ontario SPCA and Humane Society. Pet adoption is very near and dear to our hearts and through this partnership we are thrilled that we can help new, and experienced pet families prepare themselves and their homes for their new and exciting pet journey," says Dimitris Koufos, Swiffer Brand Director.  
"As a registered charity, the Ontario SPCA and Humane Society depends on the generosity of donors and corporate partners to help us change the lives of animals in need," says Stephanie Miller, Vice President, Development, Ontario SPCA and Humane Society. "We are thankful to our friends at Swiffer for their ongoing generosity and support." 
Animals adopted through the Ontario SPCA are spayed or neutered, vaccinated and microchipped. To see animals available for adoption and take the fun Meet Your Match® survey to find your best match, visit ontariospca.ca/adopt  
To learn more about Swiffer, visit Swiffer.com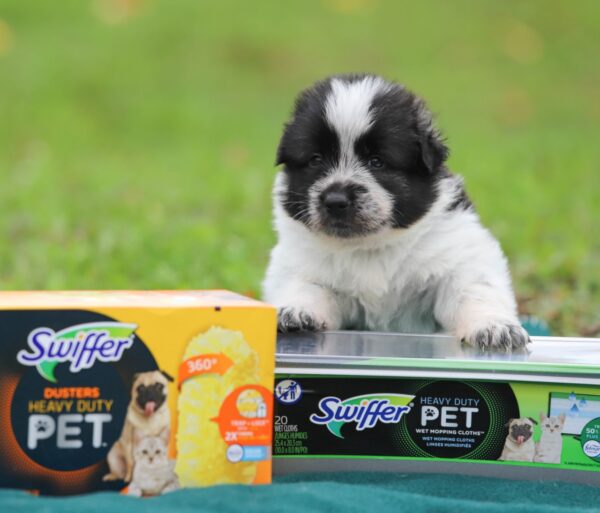 ## 
MEDIA CONTACT 
Media Relations  
Ontario SPCA and Humane Society   
905-898-7122 x 375 
MSL Group 
Christina Miller 
647-217-5033 
 The Ontario SPCA and Humane Society 
The Ontario SPCA and Humane Society is a registered charity that has been operating for nearly 150 years. The Society provides care, comfort and compassion to animals in need in communities across Ontario. It values all animals and advocates to treat them with respect and kindness. The Society strives to keep pets and families together and do so through a variety of community support services, such as sheltering and adoptions, including emergency sheltering, feral cat management programs, animal transfers, food distribution, humane education, animal advocacy, and spay/neuter services.   
The Ontario SPCA does not receive annual government funding and relies on donations to provide programs and services to help animals in need. To learn more, or to donate, visit ontariospca.ca   
The Ontario SPCA and Humane Society Provincial Office sits on the traditional territory of the Wendat, the Anishinabek Nation, the Haudenosaunee Confederacy, the Mississaugas of Scugog, Hiawatha and Alderville First Nations and the Métis Nation. This territory was the subject of the Dish With One Spoon Wampum Belt Covenant, an agreement between the Iroquois Confederacy and the Ojibwe and allied nations to peaceably share and care for the resources around the Great Lakes. The treaties that were signed for this particular parcel of land are collectively referred to as the Williams Treaties of 1923. 
Procter & Gamble 
P&G serves consumers around the world with one of the strongest portfolios of trusted, quality, leadership brands, including Always®, Ambi Pur®, Ariel®, Bounty®, Charmin®, Crest®, Dawn®, Downy®, Fairy®, Febreze®, Gain®, Gillette®, Head & Shoulders®, Lenor®, Olay®, Oral-B®, Pampers®, Pantene®, SK-II®, Tide®, Vicks®, and Whisper®. The P&G community includes operations in approximately 70 countries worldwide. Please visit http://www.pg.com for the latest news and information about P&G and its brands. For other P&G news, visit us at www.pg.com/news.