Published by Rebecca Maness.
Mardi Gras—or "Fat Tuesday"—is the day before Ash Wednesday, which marks the beginning of Lent. This cultural phenomenon, which draws people from around the world to the Big Easy each year, is marked by parades, music, and tons of sweet, fatty foods. The iconic dish of Mardi Gras is the king cake, generally a ring-shaped cake covered with icing and green, purple, and gold sprinkles. Traditionally, there's also a small porcelain baby baked into the cake representing Jesus, which is supposed to bring luck and prosperity to the person who finds it. While the dessert is sometimes made with eggs stolen from chickens and milk meant for baby cows, we've found some that are made without any animal exploitation and suffering.
Erin McKenna's Bakery (multiple locations and nationwide shipping)
On the online marketplace Goldbelly, you can order Erin McKenna's Vegan + Gluten Free King Cake Kit, which comes complete with tinted vegan sugar and a "baby" to bake inside.
Multiple pickup locations are available for Van Friendly's gluten-free and vegan King Cake Box, which includes four King Cake Donuts and a traditional cinnamon-flavored cake.
Filled or unfilled vegan king cakes are available for pickup at this all-vegan bakery in New Orleans. Filling flavors include Chocolate Tiramisu, Bavarian Cream, Cream Cheese, Strawberry Cream Cheese, and Almond Cream.
Head to White House Coffee and Creamery if you want a single slice of cinnamon-spiced vegan and gluten-free king cake topped with a tasty icing and colorful sugar.
While the indulgent king cakes of this confectionary are sold out online, you can still find them at locations around the New Orleans area, including Haydel's Bakery, Grounded Coffee Cafe, the Lafreniere Park Farmers Arts Market on Wednesdays from 2 to 7 p.m., and other locations announced ahead of time on the confectionery's social media.
Vegan King Cake Recipes
If you aren't near any of these bakeries or just want something homemade, these recipes will help you make your own delicious vegan king cake at home: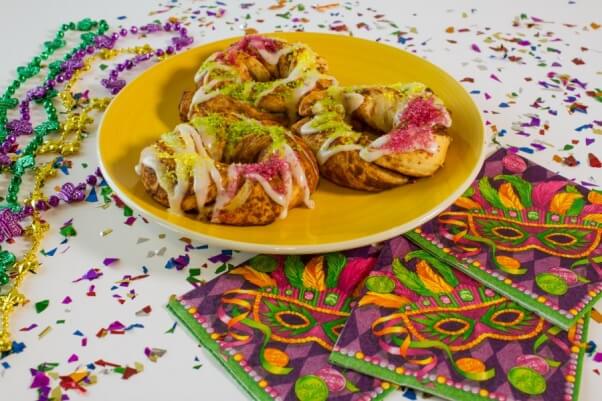 ---
These cakes offer tons of flavor without doing an ounce of harm to chickens or cows. It's easy to celebrate Mardi Gras while being kind to animals—check out these vegan Mardi Gras recipes for your own inspiration, and order a free vegan starter kit for more tips:
Send Me a FREE Vegan Starter Kit!